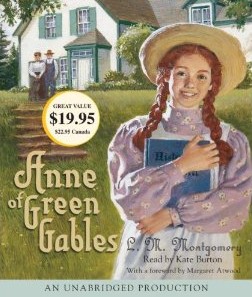 Our family has been listening to an audio version of
Anne of Green Gables
for the past two weeks. It came as no surprise that my girls have enjoyed this classic tale about a little red-headed orphan with a big imagination, but I've been amazed at how my boys have taken to it, as well.
They can undoubtedly relate to Anne's knack for getting into trouble, but part of their interest stems from the amazing job actress Kate Burton does reading. She uses such a variety of voices and affects that it seems as if the action is being played out before our very eyes. One of my guys told me, "There's no way I'd ever have chosen to read this book myself, because the language is so flowery, but she reads with such expression, it's easy to follow and understand, so listening has been fun."
If you are unfamiliar with Anne of Green Gables, I highly recommend this unabridged audio version. I bought our copy used for under $10. However, you may also want to check out the free downloadable versions (presented by other readers) available through LibriVox.