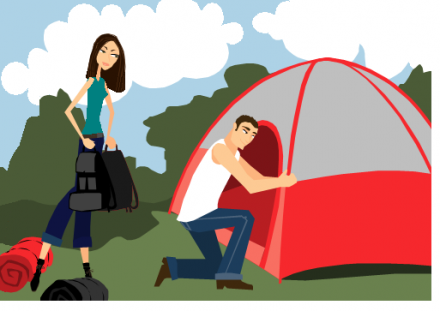 By special request, here is a copy of the master list I use whenever I'm packing for a camping trip. Obviously, not all of this gear is appropriate for every outing. For instance, if we are roughing it at Beaver's Bend, I'll leave the crockpot and the golf clubs at home, but bring the kayaks. If we're pitching tents for a week at family camp, I know we'll want bicycles and dress shirts, but won't need extra firewood.
By including all these items on my master list, however, we can mark off anything we don't need, but still be reminded to take everything we do need. So use the list below to jog your memory as you create a master packing plan of your own, and see how much that simplifies your next camping trip.
CAMPING GEAR:
3 tents
kitchen canopy
14 lawn chairs
10 cots
10 sleeping bags
10 pillows
10 quilts
1 travel crib
flashlights
extra batteries
2 lanterns
2 flood lights
extra bulbs
2 extension cords
1 power strip
Christmas lights
mallet
shovel and stones
hatchet
firewood and kindling
lighter
charcoal/ secret sauce
COOKWARE:
2 camp tables
kitchen box
enamelware plates
enamelware mugs
clear cups
silverware
serving bowls
cutting board
paring knife
crock pot
coffee pot
dutch oven
rice steamer
ziplock bags
aluminum foil
can opener
pie irons
10 hot dog skewers
2 dishpans
2 drying racks
table cloth and clamps
dishrag and hand towel
3 ice chests
2 water thermoses
laundry hampers x 3
trash bags
paper towels
paper towel holder
scrubby sponge
dishwashing liquid
FOOD:
ice
milk x3
orange juice
apple cider
hot cocoa mix
cranberry juice
yogurt
sour cream
guacamole
grated cheese
cream cheese
jelly
peanut butter
mustard
ketchup
ground beef
pulled pork
bratwurst
beef franks
taco soup fixin's
chili x3 cans
canned beans
refried beans
rotel tomatoes
English muffins
hot dog buns
hamburger buns
bagels
sandwich bread
pumpkin bread
corn tortillas
flour tortillas
breakfast muffins
granola bars
pop tarts
cereal
oatmeal
egg casserole
grapes x 2 lbs
apples/ pears
tomatoes
carrot sticks
avocados
green onions
picante sauce
tortilla chips x3
fritos x2
cooking spray
marshmallows
chocolate bars
graham crackers
CLOTHING:
royal blue polos
red polos
navy polos
dark green polos
kelly green polos
khaki pants (boys)
long skirts (girls)
shorts
jeans
brown tees
salty dog T-shirts
red (USA) T-shirts
kelly green T-shirts
tie-dyed blue T-shirts
lime green T-shirts
warm pajamas!!
rain jackets
swimsuits
cover-ups
baseball caps/ sunhats
life jackets
socks
underwear
diapers/ pull-ups
flip-flops
running shoes
running shorts
SPORTING GOODS:
bikes
helmets
baby carriers
strollers
canoe w/paddles
kayaks w/ paddles
ultimate Frisbees
soccer balls
footballs
volleyballs
baseball and gloves
tennis rackets/ balls
ping pong paddles
golf clubs
fishing poles and tackle
MISCELLANEOUS:
toiletries
camera and tripod
first aid kit
bug repellent?
sunscreen?
Bible
books to read
notepad and pen
computer/ charger
cell phones/ chargers
wet wipes
diapers/ pads
cough/ cold meds
clothes line
crochet/ cross stitch
sunglasses
reading glasses
10 beach towels
2 nursing blankets
spending money
Mom's notebook & bag
camp schedule

To print a copy of this list, click here: Family Campout Packing List.